Helpline
1-800-CHILDREN Helpline
Prevent Child Abuse Georgia's 1-800-CHILDREN Helpline is an information and referral line for people who are concerned about the healthy development of children and the prevention of child abuse and neglect. Callers can talk to a trained individual who cares and wants to help.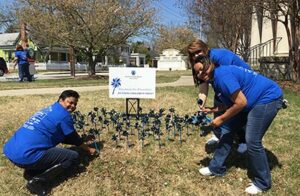 The Helpline Is:
Toll Free
A safe place to discuss options
Open Monday to Friday, from 8 a.m.-6 p.m.
Professionally staffed
Bilingual (Spanish/English)
A source of information
The Helpline Is NOT:
A hotline or crisis line
A function of DFCS
Where child abuse reports are taken
When you give to Prevent Child Abuse Rockdale, 100% of your money goes to our programs. Your dollars do not pay rent, utilities or even the food that we serve.
You can mail your donation directly to:
Prevent Child Abuse Rockdale
P. O. Box 81025
Conyers, GA 30013